Brooklyn Museum's Matthew Yokobosky Honored With Markopoulos Award at Ralph Pucci
The power and challenge of creating a sense of discovery through art or retail was discussed.
WWD – Women's Wear Daily – January 18th 2023 – By Rosemary Feitelberg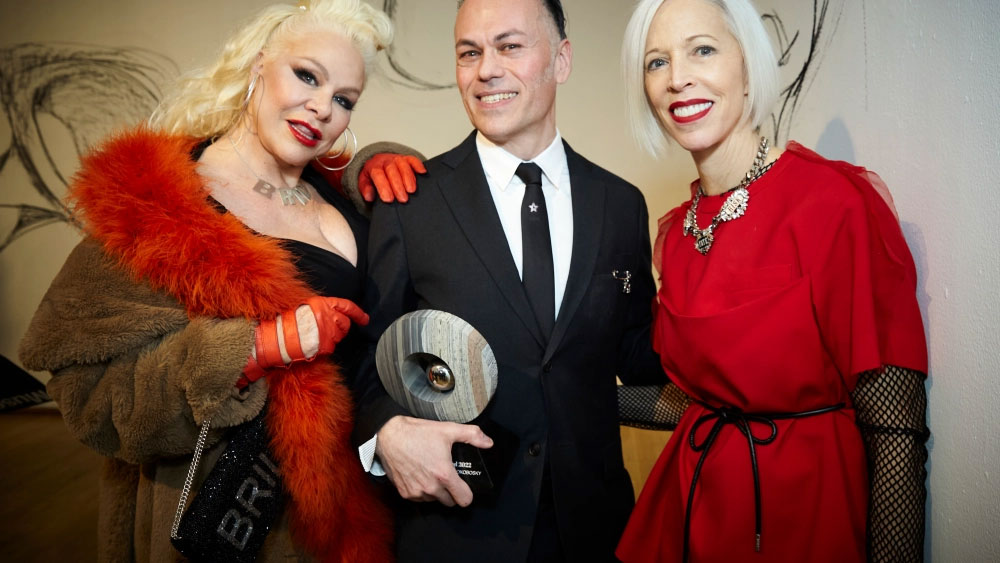 Dianne Brill, Matthew Yokobosky and Linda Fargo. PHOTO BY JAMES SALZANO/COURTESY
Like the January air that drifted through the partially opened windows of the Ralph Pucci showroom, Tuesday night's presentation of the 25th annual Markopoulos Award was about circulating — fresh ideas.
Established in 1997 in honor of the late design-minded retail executive Andrew Markopoulos, the 2022 award was given to the Brooklyn Museum's senior curator of fashion and material culture Matthew Yokobosky.
Although decades apart in their professions, the similar ideologies shared by the pair were spelled out. Prior to retiring from his role as senior vice president of visual merchandising and design at Dayton Hudson in 1996, Markopoulos told WWD that design should have "a wonderful simplicity conveying a residential look and customers must feel as though they are guests."
The same could be said of the setting for Tuesday's event — a spacious, perfectly appointed downtown gallery with oversized windows that looked out on a New York nights. Ralph Pucci hosted Markopoulos' youngest daughter Nicole, Linda Fargo, James Damian, James Mansour, fashion designer Dianne Brill, Ken Smart, Eric Feigenbaum, model Alva Chinn, Tom Bebee and Chuck Luckenbill.
Creating spatial experiences that are evocative is a specialty for the guest of honor, whose latest exhibition, "Thierry Mugler: Couturissime," is on view through May 7.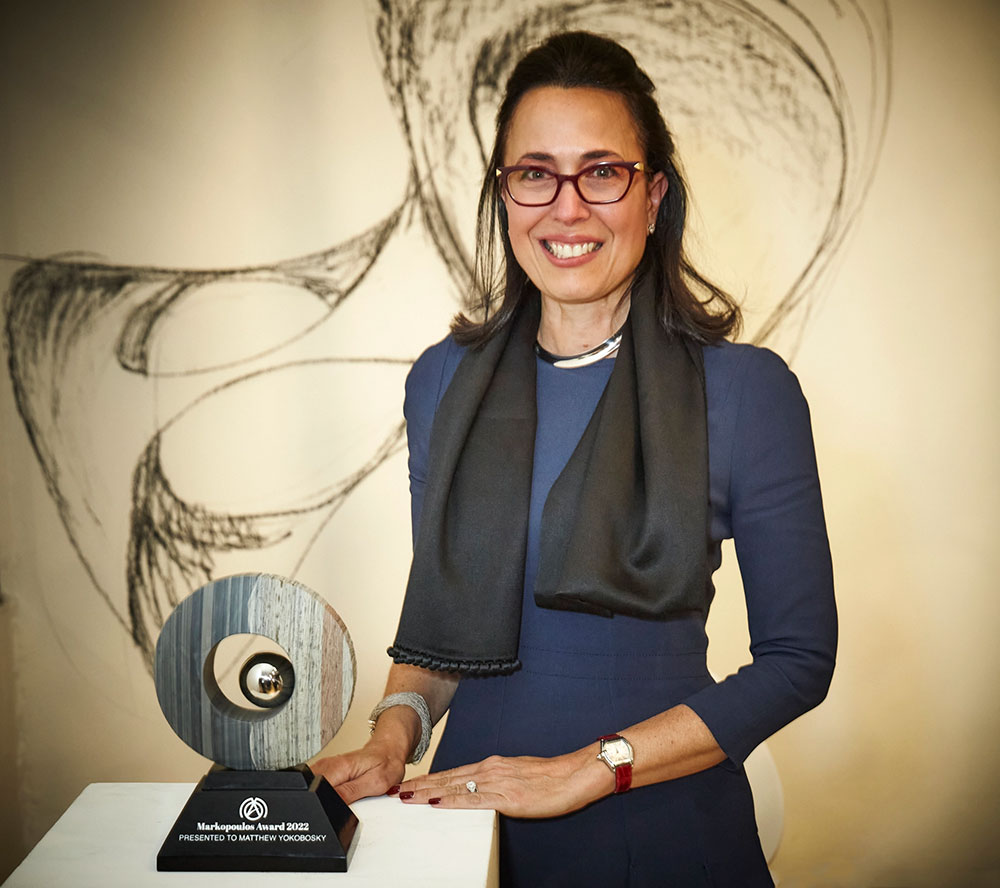 Nicole Markopoulos PHOTO BY JAMES SALZANO/COURTESY
Accepting the award, Yokobosky recalled first meeting Pucci at the suggestion of the photographer and their mutual friend Christopher Makos. After discovering Pucci worked in furniture and mannequins, they aligned for a few Brooklyn Museum exhibitions. Like the studied senior curator that he is, Yokobosky researched Markopoulos' career and was reminded of accompanying his parents to go shopping at the department store Kaufmann's and [Wright] Metzler's in Uniontown, Pennsylvania. As a teenage student at the University of Pittsburgh, he had a stint as a shoe salesman at Gimbels, a company that Markopoulos spent a good deal of time working with, particularly in Philadelphia.
Yokobosky reminded the crowd how Markopoulos believed that department stores were places where you could create magic "similar to what can happen in cinema, theater and today often in museums — places where people can experience something that takes them out of their daily lives and into a world of fantasy," he said. "This type of magic requires ideas, budgets, strong collaborators, craftspeople and a consideration for the experience that you wish to create for people."
Evoking a sense of discovery and feeling through displays is no small feat, Yokobosky said. Before joining the Brooklyn Museum in 1999, he first worked in film and theater before delving into the museum world in the mid-'80s at the Carnegie Museum and the Whitney Museum of Art. At that time, exhibitions were generally mapped out by a curator or an artist with the main discussion being where to put a wall or two, the choice of a beautiful white or neutral pink color and "sometimes the daring accent color for one wall," Yokobosky said, adding that people's expectations of exhibitions have subsequently increased exponentially.
Noting Markopoulos once said, "Whatever you do today or tomorrow has to be better than what you did yesterday," he said that remains the ongoing challenge. Through his curatorial and exhibition design, Yokobosky became more of a risk-taker after realizing the nuances of how art is experienced by people. "Everyone has their own life history so we all approach the office, people and places in our lives in our own unique manner. Finding the common thread that allows us to experience the same play or exhibition, and coming away from it feeling enriched is the job that we all want to excel at."
Fargo, a previous recipient of the award, whose tenure at Bergdorf Goodman has encompassed window display design, interior renovations and the fashion office, had a fine arts background and initially wanted to be an artist. Recalling her early days in window displays at Macy's, Fargo said, "All of those windows are just another canvas. If you're going to round up the usual suspects — I don't care whatever the work is that you are in, whether that's film, journalism or fashion — you can't go back to what you were doing before to survive. When you get that person, who comes out of the arts, they want to take a chance. But they have design skills. It's a matter of don't try this at home. Every design has to have a level of harmony."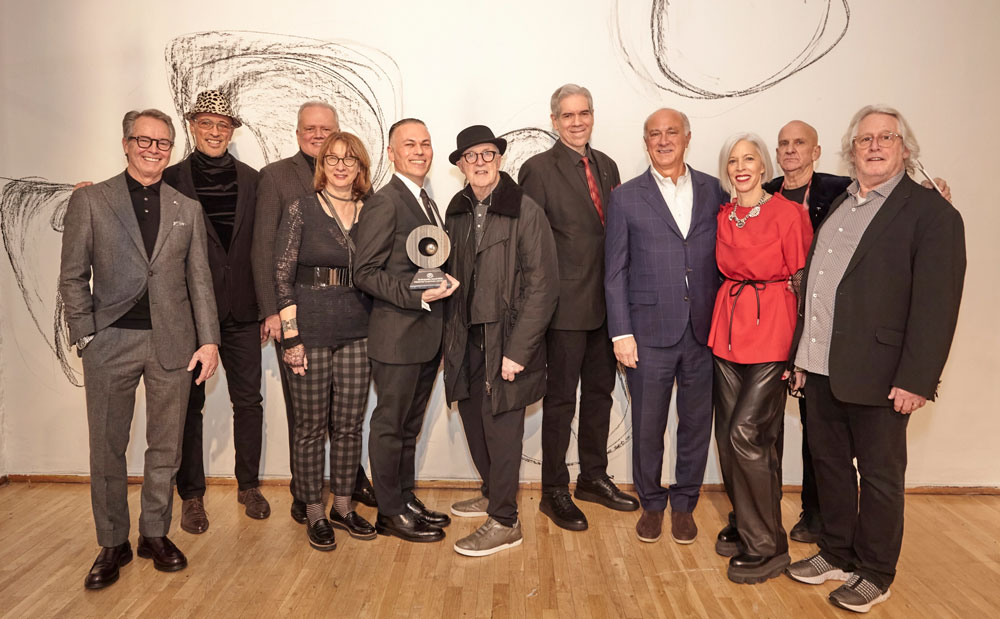 Matthew Yokobosky surrounded by friends after accepting the award. PHOTO BY JAMES SALZANO/COURTESY

Copyright © 2023 The Markopoulos Awards