It is named in honor of the late Andrew Markopoulos, whose tenure as senior vice president of visual merchandising and store design for the department store division of Dayton-Hudson made an indelible mark in the field and elevated it from a trade to an art form.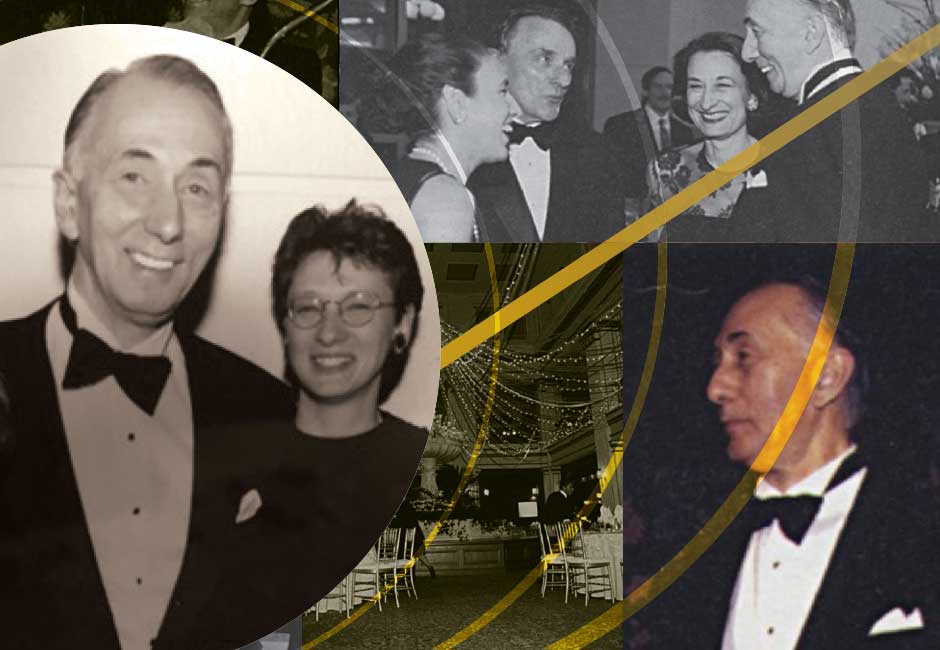 The Markopoulos Award
It is named in honor of the late Andrew Markopoulos, whose tenure as senior vice president of visual merchandising and store design for the department store division of Dayton-Hudson made an indelible mark in the field and elevated it from a trade to an art form.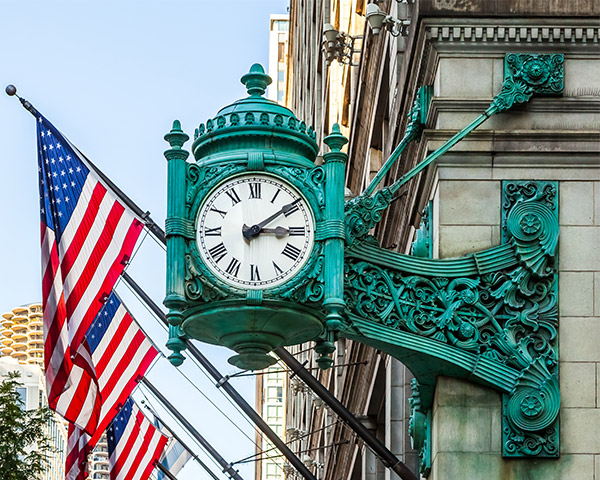 The Markopoulos Award
The iconic clock at Marshall Field's State Street and Washington Street store.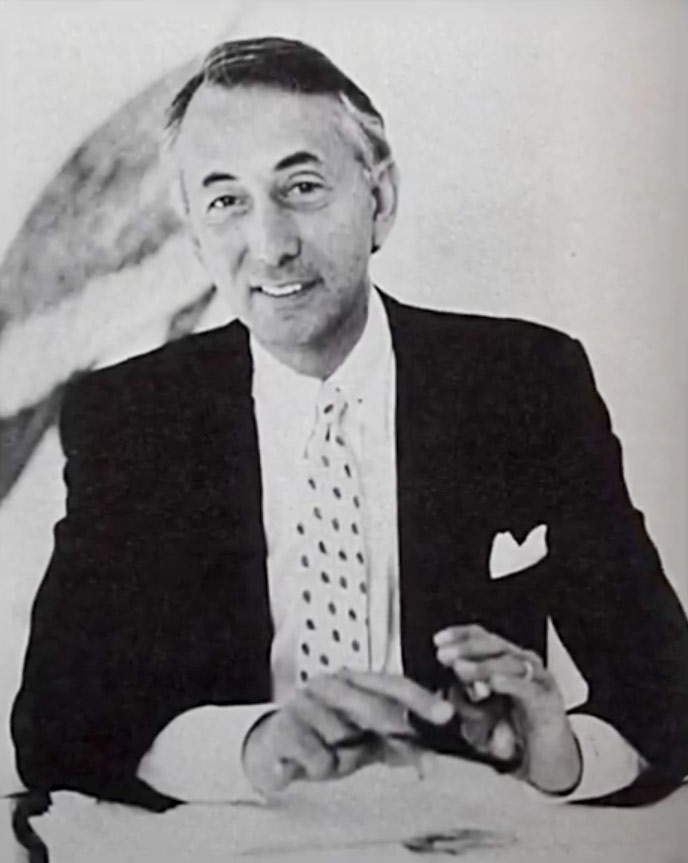 Andrew Markopoulos, a leader in store design and display and the creative force behind some of the most dramatic flagships in the country, including Marshall Field's in Chicago and Gimbels in Philadelphia.
Markopoulos's career began in 1953 after he served in military intelligence during the Korean War. His first retail job was at LaSalle's, a former division of Macy's, in Toledo, Ohio, where he was raised. Among his first assignments was helping to set up Christmas decorations. He stayed at LaSalle's for 15 years, before becoming display director for Macy's in Kansas City, and later a vice president in charge of visual merchandising for Gimbel's.
My job was to stand at the bottom of this ladder and pitch ornaments up to this guy, He couldn't catch and I couldn't pitch. There were a lot of broken ornaments. But I liked what I did that weekend. It was great fun to take things and create magic."
Andrew Markopoulos
In 1976, he designed Gimbel's in downtown Philadelphia, which at the time was the first downtown flagship to be built on the East Coast in 50 years. "We bought beautiful appointments, art, antiques, special furniture," Markopoulos said. "I looked for the most unusual things to enhance the collections. We commissioned a huge abstract tapestry for the escalator woven by Aubusson Mills in France. It hung four stories. It was charming. "It was not like Gimbel's in New York," he added. "This was a lovely store." In 1980, he joined DH department stores as vice president of visual merchandise, rising to senior vice president in 1989. Among his assignments was renovating Marshall Field's stores on North Michigan Avenue and State Street in Chicago. He felt a sense of scale and drama was required for these important downtown stores, but within their design, he explained, there should be "a wonderful simplicity conveying a residential look" so customers could feel like "guests." Pucci was a 21-year-old salesman for his family's mannequin company when he met Markopoulos while making a sales call at Gimbels in Philadelphia. "Even though he told me I didn't have the product for him, he made a lasting impression," Pucci said. "He was so professional, elegant and articulate." A few months later, Pucci visited Markopoulos again, this time bringing athletic-looking mannequins in high-gloss red, doing handstands. Seeing something that appeared unconventional, Markopoulos decided to buy them, becoming a regular customer for Pucci — and a demanding one. "If I had a show on Saturday, he would be in the showroom on the Wednesday before," Pucci said. "He was always the first up to see the newest product."
"Andrew was the most important player in the industry, bar none,"
Ralph Pucci, president of Pucci International
Markopoulos received numerous awards during his career and was the first recipient of the National Retail Federation's Visual Merchandiser of the Year Award in 1981.The year before, he was inducted into the National Association of Display Industries' Hall of Fame and was honored with that organization's Annual Display Award in 1977 and 1987
His latest project, the three-year renovation of Water Tower Place Field's on North Michigan Avenue, was completed May 1. The main-floor ceiling was extended and raised 10 feet to a height, in some sections, of 30 feet. It is adorned with crystal chandeliers. Balconies to the mezzanine and Italian travertine marble were added and the designer floor on three was rebuilt in a "curvilinear" fashion.
"It has a circular movement and wide open space, allowing guests to orient themselves quickly and make choices quickly," Markopoulos explained. At the Field's store in Northbrook Court, Chicago, launched last August, "the special challenge was to create an open floor plan, for customers to see across the entire floor," Markopoulos observed. He said since the escalators and elevators are in the center of the store, they are in plain sight.
"He was an inspirational leader in visual merchandising and a pioneer that brought enormous class and dignity to the profession,"
Joseph Cicio, president of retail development for Sun International and a former store designer for Macy's.
"It's important to have all vertical transportation together. Usually, it's buried," he noted. The Northbrook store features wider than usual aisles, 18 to 24 feet across, making the store easy to navigate. Although wider aisles do cut down on display space and possibly productivity, Markopoulos contended, "You gain that back by making guests comfortable," particularly those pushing baby strollers, or carrying packages, who need wider aisles.
"They're more likely to be repeat shoppers," he said. Markopoulos was also involved in the huge, $124 million top-to-bottom renovation of Marshall Field's flagship on State Street in Chicago, but he said the toughest assignment was always his next one.
"Whatever you do today or tomorrow has to be better than what you did yesterday," he said. "I think there is so much similarity in stores and store design. There are too many people imitating others. I don't think it's due to a lack of creativity. It's a question of support. I have been supported by my company, with the things I have pioneered." Such support, he said, is necessary because innovative design not only reflects customer lifestyles, but also helps sell merchandise.
Written by: David Moin

Copyright © 2023 The Markopoulos Awards
Visual Market Retail (VMR) and Visual Market Interiors (VMI)
is a division of Hard Drive Media Limited.
Part of the wests group of companies.